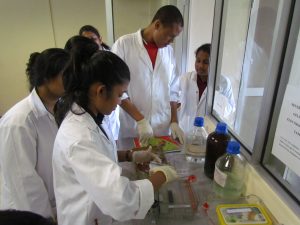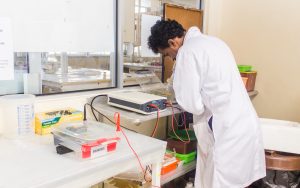 Institute of Biochemistry, Molecular Biology and Biotechnology (IBMBB) was ceremonially opened on 28th April 2004 by the Swedish Ambassador in Sri Lanka and Prof. Ulf Pettersson, Vice-Rector, University of Uppsala, Sweden.
The building is located in the main campus of the University of Colombo.The IBMBB was established by a soft loan provided by the Swedish Development Agency(SIDA) as an expansion activity of capacity building in Biotechnology supported by SAREC.
The IBMBB is equipped with all modern instruments used in molecular life sciences such as a fully automated DNA sequencer, Equipment for Micro-array technology, FPLC, HPLC, Fluorescence and Phase contrast microscopes, laminar flow hoods, cell culture facilities, experimental insectory, cold rooms, local area networking, access to internet via dedicated optical fiber cable and is fully air-conditioned.IBMBB is the National Node for European Molecular Biology Network ( EMBnet ) and is designated as a Resource Centre for Molecular Life Sciences, by the International Programme in Chemical Sciences, University of Uppsala , Sweden .
EMBnet is a science-based group of collaborating nodes throughout Europe and a number of nodes outside Europe. It is the only organization world-wide bringing bioinformatics professionals to work together to serve the expanding fields of genetics and molecular biology. The combined expertise of the EMBNet nodes and the continuing support given to us by the International Programme in Chemical Sciences allows IBMBB to provide services to the Sri Lankan molecular biology community which encompasses more than that can be provided by a single Institution.
Director :
From 2015 – Prof. Shiroma M Handunnetti, Professor in Immunology
Former Directors :
2004 – 2007 : Professor Eric H Karunanayake, Founder Director & Emeritus Professor of Biochemistry
2008 – 2012 : Prof Kamani Tennekoon, Senior Professor of Molecular Life Sciences
2013 – 2014 : Prof Rezvi Sheriff (Acting Director), Professor of Medicine