The 21st century will be dominated by two disciplines, namely Information and Computer Technology and Molecular Life Sciences. Nations that invested in science and knowledge based development have progressed significantly compared to those that did not. Sri Lanka is yet to have a vibrant industry based on Biotechnology and allied fields whereas our neighbors are far ahead of us. A key factor for lack of industries based on Biotechnology and allied fields in Sri Lanka is the dearth of trained manpower.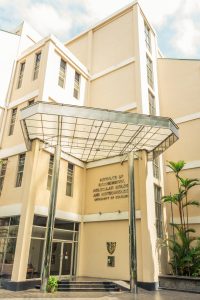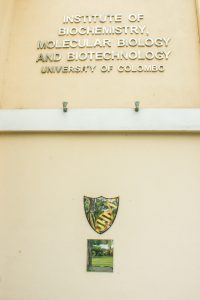 The Institute of Biochemistry, Molecular Biology and Biotechnology (IBMBB) was established as an independent Institute of the University of Colombo with a view to provide for instruction, training, research and development and consultancy in such branches of Biochemistry, Molecular Biology and Biotechnology as may be approved by the Commission upon the recommendation of the Institute and the University. Establishment of the IBMBB was the culmination of a very successful research programme in Molecular Biology led by Prof. Eric H. Karunanayake and supported by Swedish International Development Agency / Swedish Agency for Research Cooperation with Developing Countries (Sida/ SAREC). Construction and equipment of the building of the IBMBB was provided by the Investment Department of Sida (Sida/ INEC) through a soft loan of 15 million SEK provided to the Government of Sri Lanka.
Construction of the building began in 2002 and IBMBB was ceremonially opened by the then Swedish Ambassador for Sri Lanka Her Excellency Mrs. Ann-Marie Fallanius and Prof. Ulf Pettersson, then Vice Rector, University of Uppsala on 28th April 2004. Once installation of equipment was completed research activities commenced in June 2004. Two taught Masters degree courses commenced in February 2005, one in "Molecular Life Sciences" and the other in "Cellular and Molecular Immunology". Students whose Master of Philosophy and Doctor of Philosophy studies were in progress at the time of relocation to IBMBB continued their studies and new registrations commenced in 2004. The Third Master of Science degree programme in Bioinformatics commenced in May 2012, as a joint programme with University of Colombo School of Computing.